Massive Cargo Loss: Estimated 1,900 Containers Lost or Damaged on ONE Apus
MV ONE Apus is now proceeding to the port of Kobe, Japan with an estimated arrival of December 8th.
Compliments of GCaptain author Mike Schuler 12/2/2020
Yesterday we 
reported
 that the containership ONE Apus lost a "significant" number of containers overboard during a storm in the mid-Pacific. Today we're learning more about just how many were lost and it is A LOT.
According to an update this morning, it is now estimated that number of lost or damaged containers could be more than 1,900, including 40 that are believed to be dangerous goods. The exact number won't be known for some time.
Today's update comes from Chidori Ship Holding LLC and NYK Shipmanagement Pte Ltd as owners and managers of the 14,000 TEU vessel, respectively.
"Early investigations onboard the ONE Apus have determined that the impacted container bays remain unsafe for close-quarter inspections; however, it is estimated that the number of lost or damaged units could exceed 1,900, of which some 40 are believed to be DG containers," the update said.
The ONE Apus was sailing from Yantian, China to Long Beach, California when, on Monday night (November 30), it encountered heavy weather with gail-force winds and large swells which caused the ship to roll heavily. This ship was located approximately 1,600 nautical miles northwest of Hawaii at the time.
A notification was sent to the JRCC in Honolulu and Guam with maritime navigational warnings subsequently broadcast.
The owners and managers are now reporting that the ship will sail towards Japan with plans to seek a port of refuge to right unstable containers, assess any damages, and determine the exact number of containers impacted.
"Our focus remains on getting the ship to a safe port to ensure the ongoing safety of the crew, the vessel and the cargo on board," today's update said.
The photo below has been shared on social media and appears to be authentic. It looks like it was taken from the bridge looking towards the stern: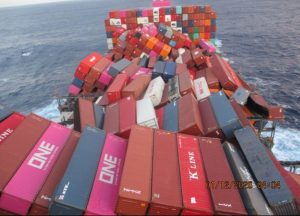 The ONE Apus is a 14,000 TEU containership built in 2019 measuring 364-meters in length and sailing under the Japanese flag. The vessel operates on Ocean Network Express's Far East Pacific 2 (FP2) Service.
A full investigation is expected in conjunction with the Flag State and the relevant maritime authorities.
History of Cargo Loss
To give you an idea of the scope of this incident, the World Shipping Council 
tallies the number of containers reported lost at sea
 each year and calculates that, on average, approximately 1,382 containers are lost overboard from ships per year, not counting catastrophic incidents (like this one seems almost certain to turn into).
The worst cargo loss I can recall (from weather, not including shipwrecks or fires) was in 2014 when the Svendborg Maersk lost 517 containers overboard and another 250 damaged during adverse weather in the Bay of Biscay. You can read the Danish Maritime Accident Investigation Board report on that incident 
here
.
In 2018 when the Maersk Honam 
caught fire
 in Indian Ocean, it was carrying 7,860 containers, corresponding to about 12,416 TEU, and the fire burned through approximately a third of the ship.
No cargo loss was worse however than the 
MOL Comfort
, which ranks as the single worst container shipping disaster in modern history. It sank in 2013 in the Indian Ocean with the loss of all 4,293 containers (estimated), equivalent to 7,041 TEUs.
Western Overseas would like to remind you of the importance of obtaining insurance, please contact your local Western Overseas representative for more information.